Home of the Jersey Soul Weekender
Brought to you by DJ The Man Himself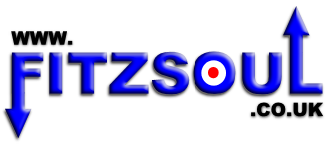 Welcome to Fitzsoul.co.uk - This is the home of the Jersey Soul Weekender and the best Classic, Northern Soul & Motown Nights in Nottingham, Leicester and the surrounding area, brought to you by DJ The Man Himself.
Fitzsoul events are held most weekends at our regular venue, The Festival Inn, Trowell, Nottingham, and also at King Power Stadium, Leicester. Click on the venue links for the list of dates. Click Coming Up to see when and where our next Classic, Northern Soul & Motown Nights are taking place.
Latest News - Sunday's Got Soul in October Cancelled
Sorry soul fans but unfortunately due to a double booking, Sunday's Got Soul at The Festival in October has reluctantly been cancelled. The next Sunday's Got Soul will be on 25th November. Keep checking www.fitzsoul.co.uk and Facebook/FitzyFitzsoul for the latest updates.
New Years Eve - Tickets Now on Sale
Tickets are now on sale for the Fitzsoul Festival Inn New Years Eve Soul Party. Click here to buy online.